Ladies, we know wedding dress shopping can be an amazing and fun time where you get to try on extravagant, beautiful dresses that make you feel confident and beautiful as you walk down the aisle to your future spouse, who is crying tears of pure joy. However, the price tag on these dresses may make you cry tears of pure stress.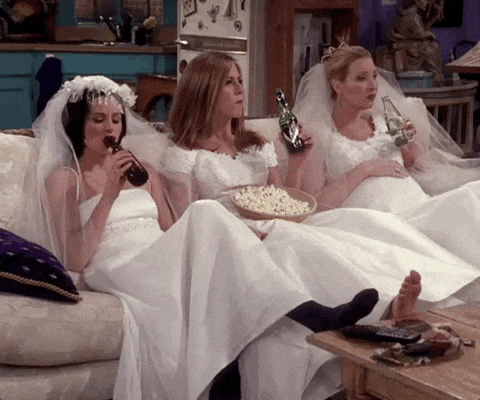 According to the Huff Post, American brides spend an average of $1,289 for their wedding dress – that's a lot of dough.
If you are on a budget, there are options to get the dress of your dreams while not breaking the bank and I have composed a list of a few:
Attend a Bridal Show: Often times when you attend a bridal show, dress shops will give discounts just for setting up an appointment to shop and try on dresses. This is a great way to begin planning a date to shop for dresses, and if you find "the one," you already have a sweet discount waiting for you.
Sample Dresses: Say you find that one perfect dress, but it is WAY over your budget. Some bridal shops will hold sales to buy sample dresses and floor models, so you can get that dress for a discounted price. You can also look online and, if you know the style and fit you want, there are a ton of sites that offer sample sales.
Go With a Less Traditional Color: This option is not for everyone. But if you are not stuck on a white wedding dress, picking a different color could be a great option. These are less common, so it is easier to find at a lower price.
White Bridesmaids Dress: If simple is more your style, choosing a white bridesmaid dress could save you a lot of money. Still beautiful, still elegant, and no one will know the difference!
Reuse and Upcycle: Typically, you only wear your wedding dress one time. Why not buy it second-hand? Doing this will give you an amazing dress, still in good quality, but for a fraction of the price. And if there are things you don't like or want to change to make it perfect, you can find a seamstress to fix it to your liking (within their ability). This option allows you to customize your dress while keeping money in the bank.
Rent, Don't Buy: Realistically, you are going to wear your wedding dress one time. If you don't plan to keep it, consider renting. This is a great way to not only save money, but now you also don't have to keep the dress tucked away in your closet taking up space.
These are just a few ways you can save money shopping for a wedding dress. While this can be a big expense, it doesn't have to be overwhelming and stressful. There are so many ways to save money for the perfect dress. If you have any additional recommendations, leave a comment below! We would love to share your ideas to help a fellow bride.
Written By: Dakota Otis